As a blogger, I may be compensated in some way (either pay, product, or experience) for sharing the post below All opinions are my own. ~Heidi
by Tim Sims & Dan Pegoda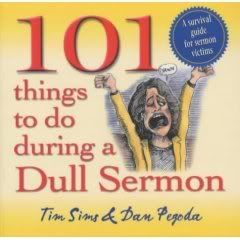 Normally, I don't share reviews on Sunday because, hey~ it's Sunday~ our day of rest.  And doing reviews is my "job" of sorts;  so, I should be resting from it, right?!  But, this is just too good to pass up and it just seems appropriate to share it on a Sunday.  So as not to be accused of working (even though I love doing reviews, so it's more "play" to me), I'm going to draft this entry on Saturday and just post it on Sunday, ok?
For those sermon-heavy Sundays when you long to be washing the dog or unclogging a drain, here are 101 adrenaline-pumping exercises:
Slap the person sitting next to you. See if he or she turns the other cheek. If not, raise your hand and tell the pastor.
Devise ways of climbing into the balcony without using the stairs.
See if a yawn is contagious.
Ananias and Sapphira list: identify the names of the "Ten Most Likely to be Struck Dead During the Offering."
Now for the sake of my dear pastor (whose wife occasionally visits my blog), I just have to say that I don't sit through too many dull sermons.  But, that doesn't mean that this little book isn't fun to read~ it's a delight!  Actually, we just received this book in today's mail (Saturday)~ and each one of us took a turn and read through the whole thing.  As a matter of fact, we fought over it! 
This book would make an adorable gift for your favorite pastor (only, however, if he's got a good sense of humor
~ otherwise, he just might be offended!
)  Oh, if this is any indication of the attraction of this little book~ I just had it sitting beside me on the computer desk while I'm typing this review, when my 7-year old came by (under the  guise of me opening a piece of candy for her) and when I looked up,  the  book was gone!  Trust me, it's funny!  If you can read this book without cracking a smile or laughing out loud, I dare say there's something wrong with you! 
"The most wasted of all days is one without laughter."
~E.E.Cummings