As a blogger, I may be compensated in some way (either pay, product, or experience) for sharing the post below All opinions are my own. ~Heidi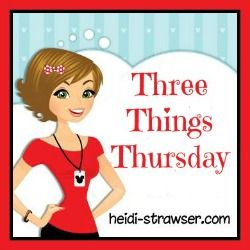 ---
As you well know, we are large fans of family-friendly entertainment at our house. We enjoy curling up on the couches on a lazy Sunday afternoon and watching movies together as a family. When cooler weather sets in, we do this much more often also.
Fortunately, I get quite a few family-friendly movies to review. So, I thought it might be a fun 3 Things Thursday topic to share some of our new favorites with you . . .
#1 – When Calls the Heart: Second Chances
Synopsis – As Elizabeth and Jack fight to restore their relationship, she searches for ways to help one of her older students learn how to read. Meanwhile, Adam Miller struggles to adjust to his new disability. With so many difficult changes affecting the community, can Elizabeth create a Founder's Day play that will spark hope in everybody's hearts?
Because we don't have cable, we have missed being able to view this series on the Hallmark Channel. So, I am very happy that they have decided to combine the television episodes into a series of movies that anyone can enjoy! This newest addition to the series was as good as all the rest. I really enjoy the chemistry between Elizabeth and Jack. Of course, I'm sure that they will eventually end up together; but it's fun to see their back-and-forth, up-and-down relationship in the meantime.
#2 – A Long Way Off
Synopsis – A Long Way Off: The Modern Story of the Prodigal Son captures the timeless tale of a journey to humility, repentance and reconciliation with both a loving earthly father and heavenly Father.

In this inspiring true story, based on the tale of The Prodigal Son taken from Luke 15:11-32 but set in modern times, Jacob leaves the family farm, shunning his father's religious and business ethics, to strike out on his own in the big city, poised to conquer the world in his own way—on his terms.

Surprised that his father actually obliges his request for an early inheritance, Jacob sets out for his own idea of fortune and fame, and proceeds to spend millions of dollars living the high life—only to find it come crashing down and learning vital life lessons, coming back a humbled, appreciative son, finally ready to reconcile with both his earthly and Heavenly Father.
We really enjoyed this retelling of the Prodigal Son story from the Bible. Sure, it was a modern-day adaptation, but it was easy to relate to. I really found myself empathizing with the father, and I can totally see why he was so excited when his son finally returned to him. Our whole family enjoyed this film.
#3 – Hero
Synopsis: A father's broken relationship with his family fills him with determination to win back the son he left behind. Reaching out through the game they both love, he deliberately forms a baseball team designed to reconnect both fathers and sons, transforming their town in the process. The story shows how one good man can lead change in his community for the common good.
My family has a LOT of sports-related family-friendly movies. I think that's because we can pretty much guarantee that my husband will love them. From the time we first got married, we've been adding movies like Rudy, Hometown Legend, Radio, and Hoosiers. I'm sure that this movie, like all the rest in our collection, will be pulled out and watched over and over again in the years to come.
[inlinkz_linkup id=442667 mode=1]
***This post made possible by Edify Media, Inc.***