As a blogger, I may be compensated in some way (either pay, product, or experience) for sharing the post below All opinions are my own. ~Heidi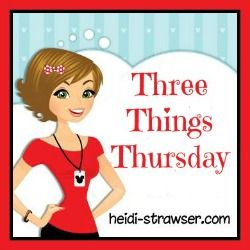 When we're out shopping, we're always on the lookout for great Disney deals. We like to hit up the Disney Store, but we aren't always close to one. You just never know where you're going to get a fun Disney fix. This week, I'm sharing 3 recent deals we've picked up.
#1 – We found two of these great glass Disney mugs at a local yard sale. They were $1 each. Well worth the $2 that we spent on them. I knew Gracie would love them, and she's pretty much claimed then as her mugs (though I do sneak one from time to time). Sure, we had PLENTY of Disney glasses and resort mugs, etc. But, a few more never hurts!
#2 – While out shopping with my friend Suzanne the other week, we stopped in at T.J. Maxx. I've never been a huge fan of that store. But, on this trip, while walking past the baby stuff, I spotted this diaper bag. When we see things like this, we're always coming up with other uses for them; because, clearly, we aren't in need of a diaper bag around here. I saw a camera bag. Ashley's been carrying her DSLR in a LARGE Disney cooler that we found on sale at the Disney Store last year, but this much smaller bag seemed like it would hold the camera, her lens, and her wallet. She was thrilled when it all fit. I'm sure this bag will be accompanying us on her 21st birthday trip this November. And it cost $6. Can't beat that.
#3 – We stopped in at the Disney Store the other week. It was during their Twice Upon a Year Sale and we got some great deals. I found Ian a pair of Star Wars flip-flops for $3.99, and I bought a birthday gift for my friend Suzanne (I got me one too, but can't mention it for surprise reasons!) Anyway, we found these Disneyland Resort pins for only $1.99 each. Ashley and I each got one, and I got one for Gracie's collection too. We always check the Disney Store for pin bargains, and have gotten some great ones over the years!
[inlinkz_linkup id=424126 mode=1]