As a blogger, I may be compensated in some way (either pay, product, or experience) for sharing the post below All opinions are my own. ~Heidi
I've been seeing this image floating around Facebook lately. I don't know where it originated to give credit where credit is due. (If this is YOUR image, please let me know so that I can credit you.)
I love this image because it's so true of me! It has inspired me to share 3 Things I Love about October this week.
#1 – The Colors
I remember way back when I was in high school . . . it was during the time when people were doing fashion assessments to determine was season you fell into. Mine was fall. With my hair and eye color, I tend to look good in earth tones (though I think I can pull off some colors outside my season as well!) In any case, I've always loved the colors associated with falls – golds, oranges, deep reds, and various shades of brown and green. I tend to decorate my house in earth tones also. My fall decorations are my favorites!
#2 – The Smells
Oh my gosh – does anything smell better than pumpkins and apples? I think not! My favorite candles are the ones that smell like fall scents – baked apple pie, pumpkin spice, etc. We have a lot of candles, but the fall one are always my favorites!
#3 – The Goodies
This kinda goes hand-in-hand with the smells, but some of my favorite goodies are fall goodies – pumpkin chip cookies, pumpkin roll, pumpkin pie bars, apple pie, apple dumplings, etc. Not only do they smell phenomenal when they are baking, but they taste amazing too!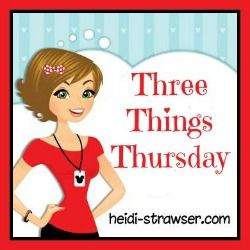 ---
[inlinkz_linkup id=454924 mode=1]