As a blogger, I may be compensated in some way (either pay, product, or experience) for sharing the post below All opinions are my own. ~Heidi
Most weeks, I try to stick with some sort of a theme for my Thursday lists. But, this week, no matter how much I have wracked my brain, I just can't seem to come up with a theme. I think it's because I have so many random thoughts rolling around in my head. So, for my own peace of mind, I'm just going to share those this week. Read at your own risk. Because, seriously, do you REALLY want to know what's going on in Heidi's Head?
#1 – Back in the spring, I wrote this post called Coming to Light regarding some stirrings in the homeschool community at the time. The point of that post was to urge homeschoolers to "test the prophets" and be sure that their loyalties were lying somewhere worthy. Since that time, I've seen more and more posts about this very subject, yet NOTHING seems to be getting done. People who could say and do things remain silent; and more and more homeschoolers are being brainwashed. I still stand behind my original post — nobody can hide forever. Your sins WILL find you out. It says so in the Bible.
Anyway, the whole situation just saddens me. I have been involved in the homeschool community for many years now, and I've seen such a decline over the past few years. It disturbs me on so many levels. I rarely blog about homeschooling anymore – not because I don't love homeschooling (I do!) but because it just feels emotionally draining.
And it's not just me. A lot of other people are saddened by it too. In fact, my dear friend Leah posted her thoughts on it just yesterday. And my sweet friend Rebecca is sharing hers today.
#2 – I'm in a blogging rut. I'm not sure why because I have this awesome blog planner that I thought would really help me. But, somedays it's just so hard to find the time. Or the content. Or the willpower to sit and write. Maybe some of this has to do with #1 weighing on my heart. I don't know, but it seems like a good excuse anyway! (If there's content you'd like to see here on my blog – or any questions you'd like to ask me, please let me know in the comments.)
#3 – I'm going to Disney in 27 days! I'll be celebrating my oldest daughter's 21st birthday. TWENTY-ONE, people! It seems like we've been counting down to this trip for SO LONG and now it's finally here. And, the truth of the matter is, I NEED a vacation!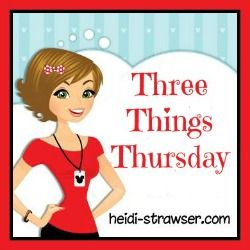 ---
[inlinkz_linkup id=457349 mode=1]