As a blogger, I may be compensated in some way (either pay, product, or experience) for sharing the post below All opinions are my own. ~Heidi
Angel Eyes is a heartwarming adventure of two cherubs, Kennedy and Tristan. They help children understand what the angels might have felt when Jesus came to Earth and was crucified. Dixie Phillips' inspirational story coupled with Kim Sponaugle's colorful illustrations make the story come alive and guarantees to leave Divine footprints in the hearts of children of all ages.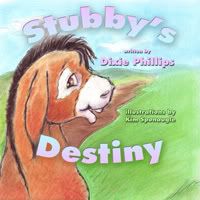 Stubby's Destiny is an inspirational story about a defeated donkey, Stubby, who feels he was born wrong. He was just about to give up when Divine destiny tapped him on the shoulder. He was chosen to carry the King of Kings upon his back. Stubby's Destiny will bring hope to hurting children who feel their situation is hopeless.
Dixie Phillips and her husband, Paul, have been married for thirty-one years and served the congregation of the Gospel Lighthouse Church in Floyd, Iowa, for the past twenty-seven years. The Phillips have four grown children. Dixie hopes to capture the hearts of little ones for Prince Emmanuel with her heartwarming stories. Visit Dixie's writing ministry at www.floydslighthouse.com.

What can I say?  These books are PRECIOUS!  With their charming illustrations and their heartwarming storylines, these two books are sure to become favorites to many children.  Dixie Phillips has used some endearing characters (a donkey who's feeling down on his luck, and some child-like cherubs) to help tell the story of the  gospel in such a way that children can easily relate to it and understand it.  Kim Sponaugle is an extremely talented artist whose illustrations are colorful and fun to look at. 
I see a lot of children's  books and I really do enjoy reading them.  I'm an adult, though, so you don't want to take my word for it!  My 8 year old daughter read both of these books and she says that they were very good and she thinks that kids would really enjoy reading them.  So, there you have it!  If you're looking for a good Christmas gift for some of the little ones in your life, be sure to check out these two titles by Guardian Angel Publishing.