As a blogger, I may be compensated in some way (either pay, product, or experience) for sharing the post below All opinions are my own. ~Heidi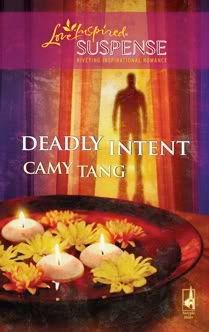 The Grant family's exclusive Sonoma spa is a place for rest and relaxation-not murder! When Naomi Grant finds her client Jessica Ortiz bleeding to death in her massage room, everything falls apart. The salon's reputation is at stake.and so is Naomi's freedom when she discovers that she is one of the main suspects! Her only solace is found with the other suspect-Dr. Devon Knightley, the victim's ex-husband. But Devon is hiding secrets of his own. When they come to light, where can Naomi turn.and whom can she trust?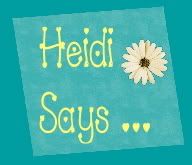 In Deadly Intent, Camy Tang proves that she is more than just an Asian Chick Lit author.  As part of the Love Inspired Suspense series, Deadly Intent is a "riveting inspirational romance".  I really enjoyed this book. I love a good suspense novel, but don't like the ones that are so scary you can't read them at night. This one was just perfect – it had just the right amount of mystery, suspense, and romance to keep me reading and guessing!  At only 212 pages, it's a quick read and would be a great book to throw in your beach bag and enjoy on a relaxing summer day. I've come to love Camy and her books and can't wait to see what she comes up with next! 
So that you can get to know Camy a bit better, I've asked her to be a Guest Blogger here on Reviews & Reflections. She'll be sharing what inspired her to write Deadly Intent – I'm sure you'll find it as fun and interesting as I did!  So, without further adieu, welcome Camy —


Things That Inspired Me to Write Deadly Intent
(list limited to ten)
by Camy Tang
10) It's set in a spa. Can we say, research???
9) The heroine is a massage therapist. Again, research???
8) After tearing the ACL in my knee TWICE, it was a moral imperative to use my experiences in my books, if only to make up for the pain and suffering I endured. Hence, I borrowed my orthopedic surgeon's background for the hero. But Devon's miserable married life and difficult parents and fun sister are NOT borrowed from Dr. King.
7) The Cathcart family at my church is one of the funnest families. Even though they've had their share of struggles, they are always cheerful and devoted to the Lord. I couldn't use the father and son's name in the book (not enough characters), but I was able to use the Cathcart women's names (also partly because I was writing the synopsis and had to think of four women's names really quick and I couldn't think of any in particular, so I borrowed with impunity). Therefore, Monica, Naomi, Rachel, and Rebecca, this one's for you guys. But just to warn you, the character personalities aren't based on the real people—I made those up to fit the purposes of the story.
6) I love Sonoma, California. My husband and I (er, rather, it's mostly ME, and hubby comes along as the chauffeur) always visit wineries up there when my parents visit us, and I just knew I had to set a story in that gorgeous place. Plus, the fact it's a tourist hub—lots of people in and out—makes for good conflict and a natural setting for murder, don't you think?
5) I think I have a violent streak, but I was REALLY eager to write about a murder. Scarily eager. You may not want to be my friend.
4) It's really refreshing to write a shorter book as opposed to my Sushi series. It mixes things up a bit for me.
3) I love Lifestyles of the Rich and Famous. What better place to indulge my fantasies than writing about a posh spa? Much cheaper than going to one myself, anyway. But I still drool over the exotic spa getaways featured in those style magazines and imagine having enough money one day to hop on my private jet to have a massage in Thailand.
2) I admit I watched all the CSI: Miami reruns and got completely hooked. I like how Horatio Caine is a mix of compassion and "I can kick your butt to next Tuesday with my pinky finger." So in writing the book, I didn't have to even think twice about who to base Detective Horatio Carter off of.
1) I have read Steeple Hill books forever (it seems like) and so when I had a chance to submit a proposal to them, I jumped at it! Love Inspired Suspense novels rock!

Thanks, Camy!  After that, I bet you just can't wait to get your hands on this book, can you?  Deadly Intent can be purchased at Amazon.com and Christianbook.com.