As a blogger, I may be compensated in some way (either pay, product, or experience) for sharing the post below All opinions are my own. ~Heidi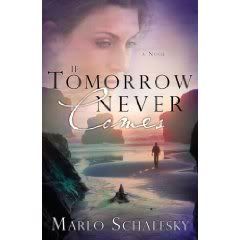 Childhood sweethearts Kinna and Jimmy Henley had simple dreams—marriage, children, a house by the sea… Everything they needed for happily ever after. What they didn't plan on was years of infertility, stealing those dreams, crushing their hopes.
Now, all that's left is the memory of young love, and the desperate need for a child to erase the pain. Until…

When Kinna rescues an elderly woman from the sea, the threads of the past, present, and future weave together to reveal the wonder of one final hope. One final chance to follow not their dreams, but God's plan.

Can they embrace the redemptive power of love before it's too late? Or will their love be washed away like the castles they once built upon the sand?
Marlo Schalesky
is the author of several books, including
Beyond the Night
and
Empty Womb, Aching Heart.
A graduate of
Stanford
University
, Marlo also has a masters of theology with an emphasis in biblical studies from Fuller Theological Seminary. Married over twenty years, she lives with her husband, Bryan, and their five children in
California
.
I was going to just skip my review of this book because I didn't know how to write it up.  Then I got to thinking that probably wasn't the fair thing to do, so I'm posting my thoughts – take them or leave them.  I just didn't like this book.  I tried, really I did.  I stuck it out and read through to the end, thinking that there would be some redemption and a happy ending.  In reality, I was left thinking "why did I take the time to read it all the way through?!"  I thought that I'd  be able to relate to the main character, having also been through (secondary) infertility; in actuality, I just found myself feeling anger towards her.  I think that, if I had known her "in real life" I would have told her to snap out of it and stop thinking about herself all the time.  The old lady that was present throughout the book seemed a bit of a mystery that I was anxious to have solved by the end of the  book.  I don't want to give away the ending, but I found it extremely odd and it turned the book more into a work of fantasy than a work of fiction.  I won't say that I will never pick up another book by Mrs. Schalesky, but I was left disappointed with this one.