As a blogger, I may be compensated in some way (either pay, product, or experience) for sharing the post below All opinions are my own. ~Heidi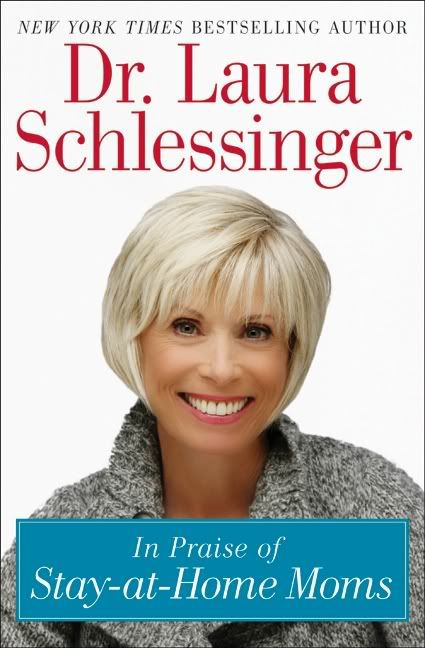 They number in the millions and they are incredibly important to families and to our society, yet they are underappreciated, little respected, and even controversial.
Who are they?
They are the stay-at-home moms.
These are women who know in their hearts that staying home to raise their children is the right choice for the whole family. Some do it from the outset of their marriages, while others make the difficult transition from career-driven women to homemakers. Either way, it is a choice that is incredibly rich and rewarding, not to mention challenging.
Now Dr. Laura, building on principles developed during her long career as a licensed marriage and family therapist, provides a wealth of advice and support, as well as compassion and inspiration, to women as they navigate the wonders and struggles of being stay-at-home moms.
Learn how:
to hold your head high and deal with naysayers;
to see the benefits of being home not only for your children but also for your marriage;
to understand the changes you see in yourself;
to realize that the sacrifices you endure now will make for lasting bonds and a stronger family, in addition to a more cohesive community.
In Praise of Stay-at-Home Moms is a special book, a profound and unique understanding of how important it is for mothers to raise their own children.
To find out more about Dr. Laura, click here or visit her website.
It's not very often, in this day and age, that you find a mainstream author in favor of stay-at-home moms, let alone promoting it.  The fact that Dr. Laura has written this book In Praise of Stay-at-Home Moms was enough to make me agree to review it, and I was pleasantly surprised.  I really enjoyed reading about Dr. Laura's life and how she discovered the important role of mothers in the lives of their children, and how much of an impact a stay-at-home mom can make (for the good).  Though she doesn't necessarily promote homeschooling in this book, and it's not written for homeschooling moms, I really appreciated this book and would definitely recommend it to anyone who is considering becoming a stay-at-home mom or someone who needs an extra pat on the back for deciding to stay at home (we all need some encouragement and reminders now and again).  Thanks, Dr. Laura!  I appreciate your wisdom and experience!