As a blogger, I may be compensated in some way (either pay, product, or experience) for sharing the post below All opinions are my own. ~Heidi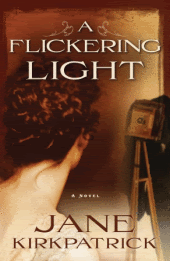 Returning to her Midwest roots, award-winning author Jane Kirkpatrick draws a page from her grandmother's photo album to capture the interplay between shadow and light, temptation and faith that marks a woman's pursuit of her dreams.
She took exquisite photographs,
but her heart was the true image exposed.

Fifteen-year-old Jessie Ann Gaebele loves nothing more than capturing a gorgeous Minnesota landscape when the sunlight casts its most mesmerizing shadows. So when F.J. Bauer hires her in 1907 to assist in his studio and darkroom, her dreams for a career in photography appear to find root in reality.
With the infamous hazards of the explosive powder used for lighting and the toxic darkroom chemicals, photography is considered a man's profession. Yet Jessie shows remarkable talent in both the artistry and business of running a studio. She proves less skillful, however, at managing her growing attraction to the very married Mr. Bauer.
This luminous coming-of-age tale deftly exposes the intricate shadows that play across every dream worth pursuing—and the irresistible light that beckons the dreamer on.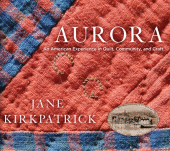 Wrap yourself in a fantastic journey,
a remarkable commitment, and a spare and splendid story.
Master storyteller Jane Kirkpatrick extols the beautiful treasures, unknown to a wider public, rediscovered in the Old Aurora Colony of Oregon's lush Willamette Valley. The people and legacy of Aurora, a utopian community founded in the mid-1800s, will stir your imagination, hopes, and dreams; and remind you that every life matters—that our lives are the stories other people read first.
~Featuring~
Unique and treasured quilt pattern variations
More than 100 photographs, many never-before published, from 1850 to today
Cherished stories from Aurora descendants
Rich images of fine crafts from the Aurora Colony and private collections
An introduction by renowned American artist John Houser


Aurora is about the difference every ordinary life can make—and a beautiful celebration of a time and place in which people expressed their most cherished beliefs through the work of their imagination and hands.
Jane Kirkpatrick is a best-selling, award-winning author whose previous historical novels include All Together in One Place and Christy Award finalist A Tendering in the Storm. An international keynote speaker, she has earned regional and national recognition for her stories based on the lives of actual people, including the prestigious Wrangler Award from the Western Heritage Hall of Fame. Jane is a Wisconsin native who since 1974 has lived in Eastern Oregon, where she and her husband, Jerry, ranch 160 rugged acres.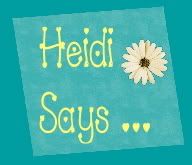 I really enjoyed A Flickering Light.  I must admit, I didn't go into this one with very high expectations – I've had trouble getting into Ms. Kirkpatrick's books in the past – but something about the description of this one really intrigued me. I picked this book up to read on the heels of a very quick read, and this one intimidated me a bit with its smaller print and nearly 400 pages.  However, I was quickly sucked in to the life of young Jessie Gaebele – I read this book with ferver and finished it in a few short days (thank goodness for the weekend and some free time!)  I believe what really interested me most was the fact that this book was based on actual events and the life of the author's grandmother. I'll be anxious for Shimmering Grasses (next spring) and finding out more about the life of Jessie (and the rest of the cast of characters I've been introduced to in A Flickering Light). I've gained a new respect for Ms. Kirkpatrick's books and will be determined to revisit a previous series by this author (that has taken up residence on my "to be read" stack). 

As for Aurora, I did not read this one through cover-to-cover.  It's a gorgeous hardbound book, full of color illustrations.  This, to me, is the type of book you display on your coffee table and pick up to read in bits and pieces.  If you love history (or if you're a quilter or especially interested in quilt patterns of old), I'd definitely recommend this book to you.