As a blogger, I may be compensated in some way (either pay, product, or experience) for sharing the post below All opinions are my own. ~Heidi
Myles Parsons is just another inmate in Kenzie Thorn's GED course until he kidnaps her, offering only a feeble explanation–that he's actually FBI Special Agent Myles Borden. Terrified, Kenzie doesn't want to believe his story of being undercover to protect her. Moreover, she can't believe that someone might really want her dead.
But just when Myles thinks he has her out of harm's way, his plans start to fall apart. He attempts to take Kenzie to a safe house—but the stubborn woman won't go! So together they must uncover the clues that will reveal a most shocking perpetrator. All the while Myles tries to keep his distance from Kenzie … but finds himself falling in love.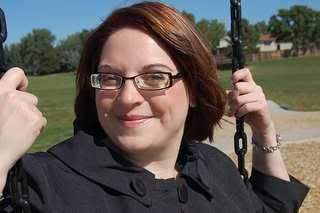 After graduating from Northern Arizona University in Flagstaff with a degree in public relations, Liz Johnson set out to work in the Christian publishing industry, which was her lifelong dream. In 2006 she got her wish when she accepted a publicity position at a major trade book publisher. While working as a publicist in the industry, she decided to pursue her other dream-being an author. Along the way to having her novel published, she wrote articles for several magazines and worked as a freelance editorial consultant. Liz lives in Colorado Springs, Colorado, where she enjoys theater, ice skating, volunteering in her church's bookstore and making frequent trips to Arizona to dote on her nephew and three nieces. She loves stories of true love with happy endings. The Kidnapping of Kenzie Thorn is her first novel.
I really enjoyed this little book. I've read other books in the Love Inspired series, but this may be the first one in the Suspense series that I have read. I always enjoy a good suspense book, but don't like when they get too scary.  This book was right up my alley – good suspense, with a nice little romance mixed in, and not too scary to read at bedtime!
The Kidnapping of Kenzie Thorn will make a great addition to your summer reading list.  Though I'm not too crazy about the smaller size of the Steeple Hill books, they're perfect for throwing in your purse or beach bag and taking your reading with you this summer!
I've been corresponding with Liz for some time now, as she works as a publicist for Waterbrook Multnomah – a company that I have reviewed many books for.  I was excited to find out that she had gotten a book of her very own published!  I'm sure it must be very exciting for Liz as well, so I've asked her if I might do a little Q&A with her, to share with my blog readers.

Hi, Liz! Thanks so much for taking the time to visit with me and my readers.  I really enjoyed your book – The Kidnapping of Kenzie Thorn – great work for a first novel! 
Thanks so much for having me, Heidi! It's a pleasure being here.
Could you tell us a bit about the path to publication?
I suppose it all started with a love of books, passion for the written word. I've always loved reading and writing, so I always knew I wanted to work in the Christian publishing industry. After earning a degree in public relations, I discovered that finding a job was harder than I thought it would be, so I signed up for the Christian Writers Guild apprentice course. I learned a lot about writing, and I continued playing around with stories (terribly written stories) until I was hired into the industry. And then it was a my good friend and fellow publicist Kelly Blewett who told me she couldn't wait to read the book I had told her I wanted to write. Her accountability got me from the dreaming stage to the sitting down and really working out The Kidnapping of Kenzie Thorn. But finishing the manuscript turned out to be just the beginning. I was originally rejected by Steeple Hill, but persistence paid off. More than 9 months of revisions back and forth and then in July of 2008 I finally got the call that Steeple Hill was offering me a contract. A year later, and my book is on the shelves. It's really a dream come true.

What inspires you to write?
Like most writers, I have stories that just won't go away, characters and situations that just keep growing. My imagination is completely overactive, usually to distraction. But I think one of the things that drives me to write is a desire to use the talents that God has given me. I don't want to be like the man in the Bible in the parable of the talents that buries his talent and has nothing to show for them. I want to have something to show for the love of writing that God has given me.
Did you base either of the main characters – Kenzie and/or Myles – on anyone you know?
Nope. Neither of the main characters are based specifically on anyone I know. But they definitely have qualities that I admire in certain friends and family members. Kenzie has a spunk and sarcasm that is something that draws me to a lot of my girlfriends. As for Myles, well, he has a lot of qualities of my brother and brother-in-law—a willingness to serve others and a genuine concern for not only those that they love but also complete strangers. I think subconsciously I gave Myles and Kenzie characteristics of all of my friends, the people that I like hanging out with, because I view reading like spending time with fictional friends.
I enjoy reading the "Questions for Discussion" section at the end of books.  #5 in The Kidnapping of Kenzie Thorn is this: "Myles gives Kenzie a special gift for her birthday – he celebrates with her. What special gift have you received? What made it so exceptional?"  Do you have a special gift story to share?
Okay, before I share my gift story, I have to confess that I wrote those questions at the back of the book in an awful hurry. My editor e-mailed me on a Friday and said she needed my "Dear Reader" letter and discussion questions by Monday. I had already planned a busy weekend, so I was sailing through those questions. My roommate and I were tossing out some of the worst possible DQs ever suggested. And then we went through and got rid of the really terrible ones. It was like a bad DQ massacre, but it sure was funny coming up with the terrible ones.
Now to my gift story … probably the most special gift to me was from my sister Hannah, and it too, was a gift of celebrating with me. It was my 25th birthday, and I had moved to Oregon from Arizona to take a job at a Christian publisher just 2 months before. Only a month after my move, my sister's newborn son passed away. While I was able to go home to be with my family for the funeral, to spend time grieving, I had to return to Oregon too soon. By the time my birthday rolled around a month later, I'd also learned that my company had been sold, and I didn't know if I was going to lose my job. It also meant that the budding friendships I'd started were suddenly disappearing, and I was alone. My mom and sister had both sent gifts that I planned to open on the actual day, but I had no one to celebrate with when I got home from work that night. What was so special was my sister's phone call. She called so that I would have someone to talk to and celebrate with while I opened my presents. She set aside her grief to make my birthday special, and it meant the world to me. I'm just so thankful for her.
Like me, you are a big-time book and music lover.  Can you offer one suggestion for good summer reading?  Is there a certain cd you'd say is a must-have in a music library?
Just one suggestion for a good summer read? Hmm … I just finished reading The Hope of Refuge by Cindy Woodsmall. It releases in August, and it is wonderful. It's full of hope and heart and really made me think about how willing (or sometimes unwilling) I am to reach out to others with the love of God. I loved it!
As for a must-have cd, I'd recommend Brandon Heath's What If We. For anyone who reads my blog, it's no surprise, that I love Brandon's music. But apparently I'm not alone. He won three Dove Awards this year and was even nominated for a couple Grammys. He's got a smooth acoustic sound, and he's fantastic! He has a love song on there called London that just melts my heart. But if you're looking for something a little more rockin'—Third Day's Revelation cd is amazing. I don't skip a single song on it. And it's perfect for the gym. Really keeps me going for an hour.
I read on your blog that you're still looking for Mr. Right.  I'm a hopeless romantic, with an addiction to matchmaking.  What might your Mr. Right be like (just in case I come in contact with him)?
Oh, dear. It's true. I haven't met Mr. Right yet, even if my dad has been offering to arrange a marriage for me for the last several years. (I think he's joking. I hope he's joking.) But it's great to know I'm not the only hopeless romantic out there. 🙂 I appreciate the matchmaking offer. You're the first interviewer to offer, so I'm thrilled to be the start of your online dating service. 🙂
So, what might my right guy be like? We'd definitely need to both have creative outlets—I'm a sucker for musicians and other writers. He's got to enjoy going to live sporting events as much as I do—I'm a big fan of Air Force Academy football, minor league baseball and anything hockey. Honesty, compassion, and kindness are musts. But really all of that pales in comparison to his love for God. I just want a man who will know and follow hard after God. Everything else will fall into place.

Is there anything else you'd like to share with my readers?  I'll pass over the mic and you can wind things up …
I'd just like to say thank you, Heidi. This has been so much fun. I hope everyone will find a copy of The Kidnapping of Kenzie Thorn to enjoy this summer. And you can always keep up with my writing adventures at www.lizjohnsonbooks.com.  

To purchase The Kidnapping of Kenzie Thorn, click on one of the links below:
Amazon.com
BarnesandNoble.com
BooksaMillion.com
Borders.com
CBD.com
GoHastings.com