As a blogger, I may be compensated in some way (either pay, product, or experience) for sharing the post below All opinions are my own. ~Heidi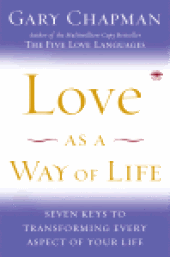 In his first major work since the publication of his phenomenal bestseller The Five Love Languages, Dr. Chapman delivers a powerful plan for whole-life happiness, with simple yet intensive exercises and wisdom for finding the life you have always wanted. The way in which our individual lives are improved, says Chapman, is through improving each relationship in your life: with your parents your children, your coworkers, and your spouse, and for all human interactions that form the foundations of our lives. With breakthrough strategies for developing new ways of accepting and responding to the gift of love, Love as a Way of Life nurtures the essential qualities of Kindness, Patience, Forgiveness, Courtesy, Humility, Generosity, and Honesty. Memorable real-life stories and inspiring advice make this an ideal book to share with others, fostering meaningful conversations about the incredible possibilities that emerge when love becomes a habit.
In his previous work, Dr. Chapman brought to light the different ways people express love, but in Love as a Way of Life he reveals that every aspect of your life can be improved by placing love at the center of everything you do.
Using real-life anecdotes, he examines the obstacles and misunderstandings that undermine relationships, and provides quizzes and exercises to help readers evaluate their own strengths and weaknesses. Rich in wisdom and inspiration, Love as a Way of Life is an invaluable guide to creating fulfilling and satisfying relationships and reaping the joys of living a love-driven life.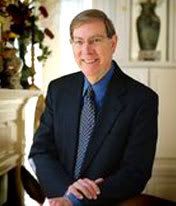 Gary Chapman
is the author of twenty-five books, including the New York Times bestseller The Five Love Languages, with more than 4 million copies in print. His daily radio program, A Love Language Minute, is broadcast on more than 100 stations nationwide. Chapman, a graduate of Moody Bible Institute, WheatonCollege, Wake-ForestUniversity, and Southwestern Baptist Theological Seminary, serves on the pastoral staff at CalvaryBaptistChurch in Winston-Salem, North Carolina.
Heidi Says:  I really enjoyed this book.  If you've read the Five Love Languages book by Mr. Chapman, then you really, really need to read Love as a Way of Life.  This book is NOT a sequel to the Five Love Languages.  Personally, I feel that it is actually a prerequisite to the Five Love Languages, in that if you do not know how to properly love, then you won't be able to incorporate using the love languages in your life and relationships.  If you have never read the Five Love Languages, I would highly recommend purchasing BOTH of these great books and reading Love as a Way of Life FIRST. 
For me, it's been so long since I've read the Five Love Languages, that I could definitely use a refresher course.  I think, though, that I will read through Love as a Way of Life again before doing so.  There is just SO MUCH to take in that I feel a slower, more relaxed approach to reading it would do me good.
In Love as a Way of Life, Mr. Chapman explains the "seven keys to transforming every aspect of your life".  These keys seem so basic, yet they are often much harder to accomplish and carry out that one might originally think.  Each key is introduced and explained in a different chapter of the book – Kindness (discovering the joy of helping others), Patience (accepting the imperfections of others), Forgiveness (finding freedom from the grip of anger), Courtesy (treating others as friends), Humility (stepping down so someone else can step up), Generosity (giving yourself to others), and Honesty (revealing who you really are).  Each chapter concludes with 3 sections that really make you reflect on the chapter and on your own life – "What would your relationships be life if you……", questions for discussion and reflection, and options for application.
The end of the book goes into detail on how you can put these principles into practice with your spouse, with your children, and with your co-workers.