As a blogger, I may be compensated in some way (either pay, product, or experience) for sharing the post below All opinions are my own. ~Heidi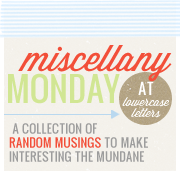 Could my life possibly get any more random or miscellaneous?!  Gee, I hope not! 
1. Only three days 'til Thanksgiving.  We're doing the usual – eating lunch with my parents – then heading to spend the later afternoon with Brian's family.  I know for sure I'm on for Green Bean Casserole and Pecan Pie.  Not sure, yet, what else I'll make.
2. I need to sit down and go over my Christmas card list.  I know there are additions and deletions to be made.  I have 50 cards so far (thanks to Shutterfly) but will most definitely have to get some more.
3. Target has one of the items on my Christmas list at a nice, discount price.  I wasn't planning any shopping trips for early this week, but think Ashley and I might need to squeeze one in soon. 🙂
4. I'm up to my eyeballs in recipes for the upcoming 2011-12 Schoolhouse Planner(s).  I hope to get them all organized and sent to editing before the holidays. Then it's on to work on the articles!
5. Should we do it?  Should we once again attempt the Black Friday Midnight Madness at the outlets?  Last year we said maybe we'd try hitting them up around 3am.  Hmmm . . .  Now that the time is almost here, I'm having 2nd thoughts.  I like sleep too much!
6. I'm a week behind on my Walkin' the Crew Blogs posts.  Guess we'll have to double up again this week. 🙂
7.  I have 116 e-mails in my inbox.  Ugh!  Just when I finally think I've got my e-mail inbox under control, something explodes again!