As a blogger, I may be compensated in some way (either pay, product, or experience) for sharing the post below All opinions are my own. ~Heidi
(one) isn't the new miscellany monday button cute?  I think so!
(two) I just got the first-draft copy of the 2011-12 Schoolhouse Planner (which I've been working on for months) – and this thing is HUGE!  We're talking 822 pages, people!  If you're a homeschooler and you're not using this product, what have you been waiting for?!  It's currently on pre-sale for only $22.  Trust me when I say it's well worth the regular price of $39 (and then some) – so you can wait and pay full price, but why pass up a tremendous deal?! 
(three) it's crazy cold here in PA!  Where's spring?!  Brian said we might even get snow by the end of the week.  What?!  I wish I was going to Florida NOW, and not in May. 
(four) every time I woke up in the middle of the night, I had been dreaming about my friend Sue.  She was alive!  It was weird.  In some of the dreams she was sick, in others, she wasn't.  I was  thinking of her yesterday when we were watching Man vs. Food – I was thinking about how much she loved hamburgers and always
said she could win a hamburger-eating contest.  Maybe that's what prompted the dreams.  My mom recently brought over this picture of Sue and me that she found in her things:
(five) today it's 51 days 'til we leave for Florida.  We made a countdown chain over the weekend. This is a MUST-HAVE.  Otherwise, we'd have to listen to Ian asking – every day – if we could start packing!  He's his mother's son, what can I say?! 
(six) Ian is also counting the days until we go to see the Monster Truck Nationals.  That reminds me — in 2 hours, I'll be drawing a winner for the Family 4-pack of tickets.  If you're in PA and would like to go see the Monster Trucks, you better go sign up – and FAST!
(seven) Ashley and I are counting the days until we go to the Revolve Tour (click the button in my sidebar to learn more about this conference for teen girls – and their moms).  I'm looking forward to meeting some of my fellow Crew Mates at this conference – Shannon and Paula.  But, more about that next week . . .
(eight) speaking of meeting new friends, I've been trying to make some new bloggy friends by participating in a few hops.  There are so many out there – if you're looking for new bloggy buddies, be sure to check them out.  Here are a few that I'm participating in today: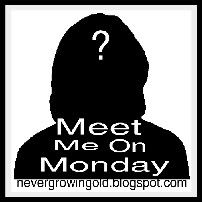 For this one, there are some weekly questions to answer —
1.  Crunchy or soft tacos?  I probably prefer crunchy.  However, Taco Bell used to (maybe still does, I haven't been there in awhile) have a taco that was a hard shell with a soft shell outside it ("glued"together with refried beans).  I found it rather intriguing and the best of both taco worlds.
2.  Do you scrapbook? I used to – back when I had time.  Now, I have Ian.  But, I wouldn't trade him for time – ever!
3.  Do you take any daily medications? Yes. 
4.  What is your favorite sound? My kids laughing. 
5.  Where were you born?  In PA, in a hospital about 50 minutes from where I live now.
And here are a few more hops that I'm participating in this week: