As a blogger, I may be compensated in some way (either pay, product, or experience) for sharing the post below All opinions are my own. ~Heidi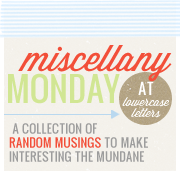 I need these blog meme on Mondays, because I've always got about a million thoughts running through my head on Mondays.  Here are the ones that are immediately coming to mind as I type:
It's a good feeling to have a cleaned out refrigerator! It looks almost brand-new inside.  Too bad it's pretty much empty of food.  Guess that means a trip to the grocery store is in order.
Our downstairs bathroom toilet has issues.  We've been trying to fix it on our own for a few months now, but finally broke down this morning and called a plumber friend.  He's supposed to come today.  Hmmm…. I wonder where he is?
If a plumbing bill isn't enough, our van is in the garage.  Did I mention that it's a miracle that we made it to Florida and back?  I thought there was something wrong with the van, but it was perfectly fine the entire time we were away, and only started acting back up when we were within 2 hours from home.  Apparently, there's a problem with the transmission (or something) – to the tune of $700-$800.  Ugh!
Gracie has violin lessons tomorrow.  Good thing it's near the mall because that girl is in serious need of some summer-like shoes.  She says she can't stand flip-flops, but I'm going to try to talk her into them.  She's already outgrown her Easter shoes!
I'm out of laundry soap. Thank goodness my mom bailed me out for today.  I think we'll need to make a batch (or two) tomorrow or Wednesday. I don't remember the last time I've totally run out.
Old tv shows are fun.  We're loving our Netflix instant streaming disk, and viewing old shows through the Wii.  The kids are watching Charles in Charge right now.  What are some of your favorite old(er) shows?
On Saturday, a friend dropped off some bar-be-que chicken halves that were leftover from a sale they had that day.  I picked most of the meat off of them this morning and have a casserole in the frig, all ready to pop in the oven for dinner.  I love days when I actually know what I'm making.  I try to make a menu, but don't always stick to it; or we forget to lay out meat the night before. 
The new Homeschool Crew is underway!  It's been so much fun getting to know the new members and visiting some of their blogs.  Be on the lookout for some upcoming reviews by the Crew!
Did you get your 2010 Schoolhouse Planner yet?  We're already making plans for the 2011 Schoolhouse Planner.  Instead of just one planner, we're going to have several (but I'm not giving away anything else!)
And the biggest randomness at our house this week — Gracie turns 10 on Wednesday!  How did that happen?  I'm having a very hard time believing that she'll be starting 6th grade this year, and that's she's moved into the middle school Sunday School class at church.  The past 10 years have passed way too quickly.