As a blogger, I may be compensated in some way (either pay, product, or experience) for sharing the post below All opinions are my own. ~Heidi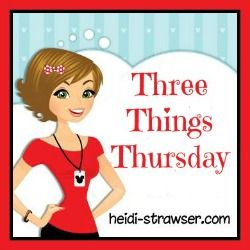 ---
I had been chatting a bit on Facebook about our fascination with LOST. We finally finished watching the entire series, and I was SO ready to move back to crime drama! I thought it would be fun to share our current 3 tv addictions this week.
#1 – CSI
We have already been through CSI: NY and CSI: Miama and gotten very attached to Mac Taylor and Horatio Caine. We weren't sure where to go from there, as the original CSI isn't available on Netflix. Ashley broke down and ordered Season 1 on DVD from Amazon. Last week, I placed an order for the next 3 seasons, so that should keep us busy for awhile. I almost think I'm enjoying the original better than NY and Miami – which I didn't think would be possible – but, so far, it seems a bit less graphic, which I appreciate. I really like the characters as well.
#2 – Criminal Minds
Ashley bought Season 1 of this show at Walmart a few weeks ago. It was a toss-up between this and NCIS, another show that was recommended to us. I'm glad we chose this one, as we're really enjoying it. I'm attached to the characters already and really appreciate their personalities. (It might help that one of them is "Malcolm Winters" from my days of watching Y&R.) The other day, Ian discovered that Netflix just added this show, so we'll be watching much more of it.
#3 – Forensic Files
For a quick true crime fix, we've been enjoying Forensic Files. It's only like a 20 minute show, but covers a full crime story in that short amount of time. I like it better than some other Investigation Discovery-type shows, simply because there's not so much repeat (around commercial breaks), so you can see a whole story in a shorter amount of time.
I'd love to hear about what you are watching. Do you have any good shows to recommend to us?
Loading InLinkz ...