As a blogger, I may be compensated in some way (either pay, product, or experience) for sharing the post below All opinions are my own. ~Heidi
This is the 3rd of Camy's books that I have been able to share as part of her blog tours.  Camy's tours are always lots of fun (much like her books)!  I've been so busy the past few months, that I must admit I haven't had time to check out the other stops on the Single Sashimi blog tour; so, I apologize in advance if my thoughts are repeats of what others have already posted….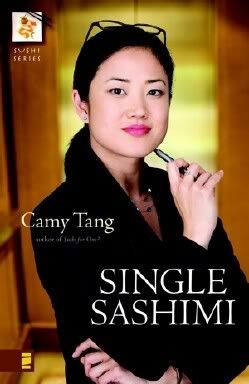 Venus Chau is a high-powered video game developer. Now she might be working for the man she's always hated … but what if he's no longer the man she thought she knew? The third book in the Sushi series offers romance with the spice of ginger.
Description: 
Drake Yu. Why would Drake call her after … what, five years? Six?
Venus heard in his voice that resonance that was almost a growl, that titanium-hard determination to get what he wanted. And he usually got what he wanted. The voice said: "I want you to work for me."
Not this time… If it was a choice between Drake and McDonald's—she'd choose french fries. She'd never work for him again. It would take an act of God.
Venus Chau is determined to start her own game development company and launch the next Super Mario-sized phenomenon. However, she needs an investor to back her idea. When Drake Yu, an old nemesis, approaches Venus with a contracting opportunity at his sister's startup, the offer to become Chief Technology Officer tempts Venus to think the unthinkable.
Venus would rather throw away her PS3 than work for Drake again … except Grandma bribes Venus to do this favor for Drake's wealthy family with a coveted introduction to the most respected investor in the game industry. It's also a short job—only a few months—so Venus won't have to stand Drake's presence for very long.
But one wild youth group, a two-faced assistant, and Grandma's determined match-making threaten to make them both fail—or go insane. With the encouragement of her three cousins, Lex, Trish, and Jennifer, Venus discovers that even a wounded heart can undergo a beautiful transformation …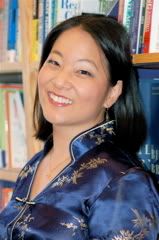 Camy Tang grew up in Hawaii and worked for years as a biologist/researcher until she felt God's call to return to the writing that she had loved as a student. She now writes "romance with a kick of wasabi" and, with her husband, is a staff worker with the youth group at her church. Visit her website at www.camytang.com.
Author Website:
http://www.camytang.com
This is the third of Camy's books that I have read and I have become quite attached to the four  cousins who have been featured in these books.  I love their various personalities and the close bond that they share with one another.  They totally seem like the kind of gals that I would pick to have as my friends – far from perfect, yet well aware of their flaws and lots of fun.
In true Camy Tang style, this book was much like its predecessors – real, fun, and enjoyable to read. Venus is a character that I can relate to in many ways – I love the stories about helping with the youth group at church – I was laughing at all the funny situations she got herself into with the kids.  I was, of course, cheering for her to finally admit that she liked Drake.
To my knowledge, this is the last in the Sushi for one series.  I enjoyed getting to know Lex, Trish, and Venus, and am sad that there won't be a book about Jennifer.  But, I'll be watching for more books by Camy Tang.  I've come to enjoy her as an author, as a fellow blogger, and as an Asian voice in the Christian fiction marketplace.  She's filling a void that was virtually unmet before.  Can't wait to see what she comes up with next…..