As a blogger, I may be compensated in some way (either pay, product, or experience) for sharing the post below All opinions are my own. ~Heidi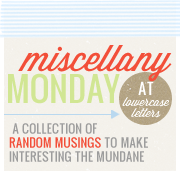 ONE – I have a headache for the 2nd day running.  Migraine pills aren't touching it, so I'm assuming it must be sinus-related.  As much as I hate to admit it, I think it has something to do with this week's warmer weather.  Hmmm . . .
TWO – Brian came home with a dozen red roses for me today.  Too bad we don't have a vase large enough to accomodate them all – so we had to split them into 2 vases.  Actually, I guess that's  a positive thing – this way, we get to enjoy them in more than one place!
THREE – My dad brought me a very pretty jewelry set that Ashley helped him pick out on Saturday.  He bought for all his girls – Mom, me, Ashley, and Gracie.  Unfortunately, Ashley forgot that I can't wear earrings unless they are the fish-hook style – so my set will need to be exchanged.  It's the thought that counts, though.
FOUR – Brian was intending to take us out for a nice Valentines supper, but my headache has me wanting to stay curled up on the couch.  So, we ordered out.
FIVE – We had some very high winds here today.  So much so that I feared I might actually blow away when I went for the mail.  I didn't.
SIX – In honor of Valentines Day, we're watching Letters to Juliet – what a great movie!  There aren't enough made like this anymore. 🙂
SEVEN – Carissa – the lovely host of the miscellany – has the neatest earrings I've ever seen.  And she wears them well!  Click the button above to see them for yourself (if you don't believe me).
And that's about all I can think of at the moment.  Hopefully my post tomorrow will be more coherent.