As a blogger, I may be compensated in some way (either pay, product, or experience) for sharing the post below All opinions are my own. ~Heidi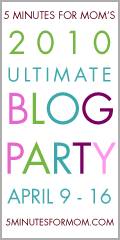 I'm getting in on the Ultimate Blog Party (hosted by 5 Minutes for Mom) a little late this year.  I had all intentions of blogging LIVE FROM CINCINNATI – while attending the Midwest Homeschool Convention this past weekend – but that was one crazy place!  I found myself with absolutely NO spare time!  So, here I am – joining in on the blog party fun – just a few days late!
Since my blog here at blogger is fairly new, I'll take a little bit of time to introduce myself to any new readers/visitors —
I've been blogging for several years now, and previously blogged at Reviews by Heidi.  I loved that blog – it's where I learned how to blog, how to do some html coding, and how much fun it is to make online/blogging friends.  I've made some lasting friendships at HSB.  There was nothing wrong with that blogging platform; I simply felt the need for a change.  There were many ups and downs in our lives in 2009, and I wanted to make a fresh start (in more ways than one) in 2010.  Hence, this new blog!
I'm a stay-at-home, work-at-home, homeschooling mom to 3 great kids.  My oldest daughter, Ashley, is 16 years old.  I'm not sure how that happened!  She's currently finishing up her 10th grade year; and, with the exception of 2 1/2 years in the local public school (2nd-4th grades), she's been homeschooled her whole life and wouldn't have it any other way.  She's a great girl, and is growing into a very wonderful young lady.  She has taught herself to play guitar and leads worship at youth group.  She's also a writer and co-authors a blog for teen girls. We're great friends and have lots of fun when we're together.  She helped me man the booth at the Midwest Convention – and we discovered that she's also a very talented sales lady!
Gracie is my middle child.  She's 9, and finishing up her 5th grade year.  She wanted to learn to read when she was 4, so 2 months after her 4th birthday, we started her in kindergarten.  Her favorite subject is math – it's the first thing she does when she wakes up in the morning, and she's always asking to do extra math work!  I'm not sure if she'll have a career in finances or not; but it certainly wouldn't surprise me.  She loves her pets (our dog Sallie and her guinea pig Jackson) and her stuffed animals (which she treats like real animals) – maybe a veterinarian?  She plays both piano and violin, and is quite the talented artist as well. She recently learned to ride a bike without training wheels and jumped up and got right back on after a nasty spill last week!
Ian is the baby in our family.  He'll be 4 in 8 days!  With Ian around, there's never a dull moment and he always puts a smile on our faces (even in the darkest of times).  I cannot imagine what our lives would be like without having been touched by Ian.  He is quick to pick up on everything, but he's way too busy to sit down and work on school (though every once in awhile he does ask to do some schoolwork).  He's Tim Hawkins biggest fan and goes around quoting Tim quite often.  A future comedian?  Who knows!
I've been married to my husband Brian for 18 years, but we've only had 4 anniversaries (figure that one out!) In addition to working for a local trucking company (accounts payable), he also enjoys being a basketball referee during the winter months, and spending time in his garden and going to the sprint car races in the summer months. 
I work from home, part time, as the Special Projects Manager for The Old Schoolhouse Magazine.  I love my job!  One of the best parts of my job is serving as the Captain for the TOS Homeschool Crew.  This past weekend, I was blessed with the opportunity to meet several of my Crew members – what fun!  I also am co-creator of our Schoolhouse Planner – the 3rd edition (2010) has just recently released!
I love blogging, reading, shopping for bargains, and planning things (like get-togethers and vacations).  To me, a large portion of the fun is in the planning, so I can make a good vacation last for a year (or more!)  I recently lost my best friend after a 9-month battle with ovarian cancer; so I'm trying to adjust to a "new normal".  Because of  that, in addition to my passions for homeschooling and adoption, I'm also passionate about ovarian cancer awareness. 
We're looking forward to some  traveling this spring, as we represent TOS at various homeschool conventions, along the east coast.  If you live in PA, NY, VA, or FL, or you're planning to attend the statewide convention in any of these states, be sure to stop by the TOS  booth and introduce yourself.
I do both book and product reviews here on my blog, and enjoy offering giveaways too!  I love meeting new friends, so I hope you'll leave a comment and/or decide to follow my blog.
~*~*~*~*~*~*~*~*~*~*~
My Prize Wish List
(I'd be thrilled to win any of the following prizes, which are listed in random order):
Win a $150 shopping spree at Pedal Cars and Retro Collectibles.
Provided by: Pedal Cars and Retro Collectibles
Follow here: 5 Minutes for Mom or Visit Our Fan Page: Pedal Cars and Retro Collectibles

Win a $150 shopping spree at A Rocking Horse To Love.
Provided by: A Rocking Horse To Love
Follow here: 5 Minutes for Mom or Visit Our Fan Page: A Rocking Horse To Love
Buds to Bloom Photo Tile Necklace ($95) – Features custom photo tile, hand stamped mom charm & bead cluster. The Ultimate Mommy Necklace!
Provided by: Lisa Laverty at Elemental Memories
Follow here: emphotojewelry or Visit Our Fan Page: Elemental Memories
Win a $25 e-gift certificate to the Disney Store.
Provided by: Kristin @ Couponing to Disney
Prize package of preschool toys! KOTA & PALS HATCHLINGS – (PLAYSKOOL/Ages 3 years & up/Approx. Retail Price: $14.99), TONKA CHUCK & FRIENDS CHUCK MY TALKING TRUCK (TONKA/Ages 3 years & up/Approx. Retail Price: $34.99), PLAY-DOH Coco-Nutty Monkey (Ages 3 years & up/Approx. Retail Price: $12.99), PLAY-DOH MINI BUCKET (Ages 3 years & up/Approx. Retail Price: $4.99)
Provided by: Hasbro
Follow here: playskool or Visit Our Fan Page: Playskool
The winner will receive 2 year-long magazine subscriptions…one to Taste of Home and one to Simple & Delicious.
Provided by: A Virtual Hobby Store and Coffee Shop
Follow here: bluestbutterfly
Be My Guest certificate ($250 value) for one lucky winner, (2 night stay for a family of four) at any Hilton Garden Inn.
Provided by: Hilton Garden Inn
Follow here: bloggin2noggin
Your Shape for Nintendo Wii A fitness video game featuring Jenny McCarthy Comes with a motion tracking camera! All for one lucky winner!
Provided by: Kristie's List
Follow here: KristiesList
Disney Mickey 5-in-1 Tasty Baker by Pop Art. An all in one table top appliance that bakes pancakes, cakes, quickbreads, biscuits and donuts and more into 6 bite sized shapes (Mickey mouse, Minnie Mouse, Donald Duck, Daisy Duck, Goofy and Pluto) in about one-third the time. It can even cook eggs.
Provided by: Pop Art Toaster
Follow here: poparttoaster or Visit Our Fan Page: Pop Art Toaster

This is just a sampling of the things I'd love to win – I'd be happy with ANY of the prizes!  For the full list of prizes, click here.